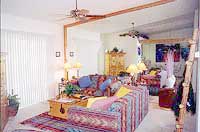 Located right in the middle of Palm Springs and less than 5 minutes by car to downtown, the airport, and the convention center.
Hotel room features: Over 900 square feet of cozy comfort and each is eclectically decorated with exceptional original art, beautiful pine armoires. 2-bedroom/2-bathroom villas have more than 1200 square feet of living space. 1-bedroom villas have vaulted ceilings, exposed wood beams, textured walls, and custom designed floor to ceiling mirrors.
Large kitchens are completely furnished with full appliances and cookware and coffee maker.
Lodging.com has negotiated special rates with this property to save you money. Click here for rates and availability.