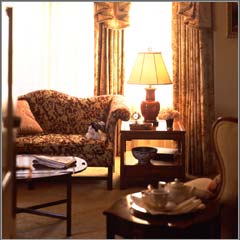 Originally constructed in 1923 as a residence for Washington society, this Beaux-Arts-inspired building opened as a luxury hotel in 1986. It has since traditionally served as headquarters for head of states, ambassadors, and other dignitaries from around the world. This quiet, elegant hotel is located in the heart of Washington D. C., four blocks from
The White House
. But it's found in the heart of every guest who's ever stayed here.
Personalized attention is evident everywhere. You can expect to be greeted by name throughout your stay. Laundry is hand-ironed and delivered to you in a wicker basket. A multi-lingual concierge ensures that foreigners aren't made to feel like strangers. It's our belief that though the 18th century is long gone, the hospitality associated with it doesn't have to be.
For more complete information and reservations, contact the hotel's own Web site.