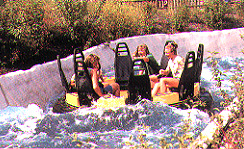 Silverwood is a Victorian turn-of-the-century, seasonal theme park. It offers rides, shows, attractions, games of skill, food services and retail shops. Silverwood, which opened in 1988, is the only park in the U.S. built around a working private airport.
Silverwood is located 15 miles north of Coeur d'Alene on Highway 95. The complex is located on approximately 700 acres. The theme park portion is located on the west side of the highway and the 126-space Silverwood RV Park and a 1,000-vehicle parking lot is on the east side.
Silverwood is managed and maintained by a full-time staff of personnel, supplement by a seasonal staff of 400 when the park is open.