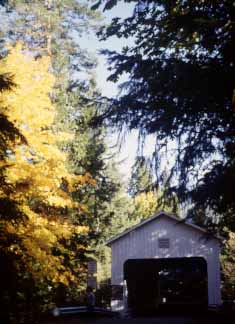 The Belknap Bridge occupies a site in which a bridge has been in continuous use since 1890. The neighboring community recognized the importance of a river crossing at that location and adopted the name "McKenzie Bridge." In 1911 the first bridge was replaced by
Lane County
with another covered structure. The third covered bridge at this site was erected in 1939 and was destroyed by the Christmas Flood of 1964. The current covered span was designed by the Oregon Bridge Corporation of
Springfield
and built by contract let by the county. The bridge was opened in 1966.
The name Belknap refers to early settlers along the McKenzie River. R.S. Belknap developed Belknap Springs and his son, J.H. Belknap, was involved in the toll road over the McKenzie Pass in the early 1870s.
Several years later, louvered windows were added to the south side of the bridge to give interior illumination and to reduce the "box effect" of a windowless span.