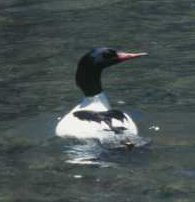 The male common merganser has a flashy, greenish-black head, white sides, a white breast and a long, thin, red bill and feet. Female mergansers are colored with a gray body and sides, as well as a reddish-brown crested head and a white throat.
Merganser breeding grounds range throughout Canada from eastern Alaska to Newfoundland on wooded rivers, ponds and occasionally salt water. When migrating, this diving bird relocates as far south as Mexico. Fish, crustaceans and mollusks are all favorite foods for mergansers. However, insects and water plants are typical secondary food sources.
Within a down-lined hollow on the ground or perhaps a tree cavity, females will usually lay 6 to 12 light-brown colored eggs.