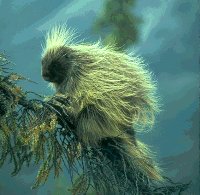 The porcupine has a blunt-nosed face with beady eyes and small, round ears. The legs are powerful with long curved claws making it slow-footed and strong. The front half of the body is covered in long guard hairs which are a yellowish color in western states and black or brown in the east. The rump and tail are covered in over 30,000 quills (tiny, scale-like barbs), which range from 1 to 2.5 inches in length.
The porcupine feeds on leaves, twigs and green plants and has a ferocious appetite for salt (it will chew on any salt stained tools or clothes it comes across). Bounties have been placed on them in certain regions because of timber destruction.
During breeding, males will approach a female with courtship and nose-rubbing. If accepted, she allows him to spray her with urine. When fully soaked copulation occurs and 210 days later one offspring is born fully equipped and covered in quills.