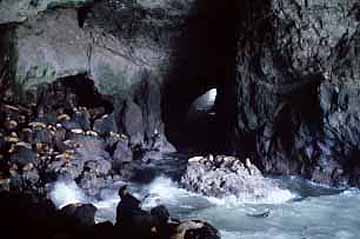 If you make just one stop on the fabulous
Oregon Coast
, you'll be well rewarded by a visit to
Sea Lion Caves
. Within a splendid coastal headland, the sea cave is magnificent.
Largest in the world
, its colors make it the most beautiful.
The ocean, sometimes wild and always wonderful, surges into and out of the cave where a herd of wild, golden Steller sea lions and their black pups take shelter. In summer during the breeding season, enormous bulls weighing up to 2000 pounds join the herd on rock ledges just outside the cave. Sea Lion Caves, home of wild Steller sea lions, has been called 'the treasure of the Oregon Coast.'
There's no other place like it. Anywhere!
91560 Hwy. 101 N.,