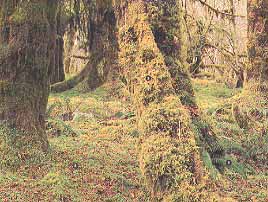 The
Olympic and Kitsap Peninsulas
has been recognized internationally as a World Heritage Site. The Hoh Valley's large old growth trees hung with moss, the ground a blanket of ferns, and possible sightings of deer and elk make this one of the most visited places in the world.
The Park Visitor Center is at the end of Rain Forest Road, 19 miles from Hwy 101 and is open daily at 9 a.m.
There are also campsites and trails for visitors to enjoy.