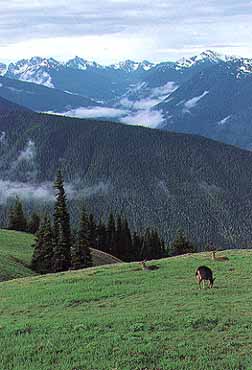 Just 17 miles from Port Angeles, Hurricane Ridge is one of the
Olympic National Park
's most scenic areas, offering a panoramic view of the Strait of Juan de Fuca and the alpine meadows and glacier-clad peaks of the Olympic Mountains.
The Hurricane Ridge Lodge is open during winter and summer tourists seasons, offering a gift shop, food concessions, ski shop, a museum and restrooms.
There is also a visitor center open seven days a week April through October. The area is accessible by good roads from Port Angeles. Excellent skiing (downhill and cross-country), and tubing.