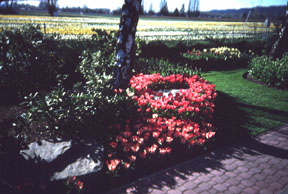 The bulb industry that brings us this colorful spring harvest had its start in the Puyallup area in 1910. Many of the earliest bulbs were imported from England and continental Europe. The combination of Prohibition and the 1922 hop failure provided the real incentive to bulb growing in the area.
Early in the 1920's, Simon VanLieorop was sent to the United States by a Dutch bulb company to sell bulbs. In 1934, he started the farm at its present location.
The bulb farm features plantings and display gardens with 150 varieties of spring flowers including daffodils, tulips, irises, crocuses, and hyacinths.
The spring flower shop is open seven days a week from February through June.
Gardens are open to the public throughout Washington.