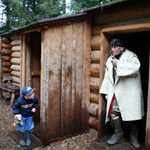 It was on a wet Christmas Eve day in 1805 that the explorers of the Lewis & Clark Expedition moved into a stockade fort surrounded by lush old-growth forest, wetlands, and wildlife. Named in honor of the local Clatsop Indians, the fort was home for the 33-member party for the winter of 1805-1806.
The original fort deteriorated in the wet climate, but in 1955, using Clark's sketches, area citizens and service clubs constructed a replica on the same site. Three years later it became a unit of the National Park Service.
Today, park rangers dress in buckskin, make candles, smoke meat, carve dugout canoes, and fire flintlock rifles and muskets to reenact what life might have been like for the explorers.
Fort Clatsop is part of the Lewis and Clark National and State Historical Park. Admission is charged.