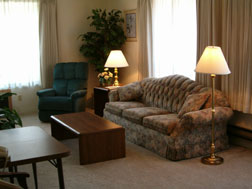 The Helgeson Place Hotel was owned and operated by Nels and Elizabeth Helgeson in 1925, when the rooms were just $1.00 per day. The hotel has evolved into Orofino's finest. Enjoy our single room, or our one and two bedroom suites, equipped with Queen or King beds to help accommodate the 550 to 750 square feet of spacious living. All suites have full-size refrigerators, oven/stove, coffee pots and microwaves, and wireless broadband internet access.
Available for meetings or special events is our conference room, which accommodates up to 60 people. It is equipped with a big screen TV, stereo and wet bar.
Our hotel is walking distance from several restaurants, grocery stores, shopping and the city park.
We offer a light continental breakfast every morning and our private hot tub deck is available year around.
Orofino is known for the best fishing and hunting in the area. Come and experience a bit of history at the Helgeson Place Hotel.
P.O. Box 463, 125 Johnson Ave.,