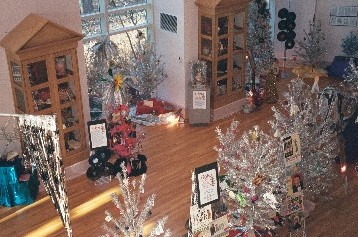 The world's only museum dedicated to the preservation and public enjoyment of vintage Aluminum Trees. A new museum now serves to preserve the legacy of the evergreen's distant cousin... the aluminum Christmas tree.
The Aluminum Tree & Aesthetically Challenged Seasonal Ornament Museum and Research Center (ATOM) will display over thirty vintage aluminum trees from the 1950's and 1960's. Numerous color wheels and revolving tree stands from the era will be interspersed with artifacts from the aluminum trees' glory years.
Brevard, North Carolina is located 30 minutes south of Asheville, North Carolina in the Blue Ridge Mountains.
An associated ATOM also exists in Nashville, Tennessee,