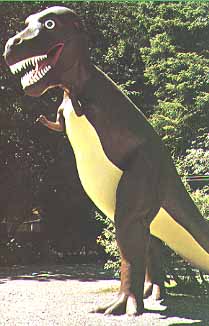 Located on Hwy 101 on the southern Oregon Coast, Prehistoric Gardens is one of the most unusual tourist attractions in the world, a "lost world" of life-sized replicas of the dinosaurs and other prehistoric animals.
These replicas of the animals are scientifically correct restorations, authentic in details. Their size and shape are based on the measurements of fossil skeletons.
Prehistoric Gardens is located in a small coastal valley surrounded by hills where the temperate zone Rain Forests of the Oregon Coast have developed.
A gift and souvenir shop is located just outside the Gardens area and features distinctive items.