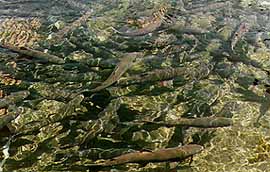 The hatchery is located at the confluence of Tyee Creek and Wind River about 14 miles from the Columbia River.
Carson National Fish Hatchery, built by the CCC, began raising salmon and trout in 1937. During the 1950's, the hatchery began raising spring chinook salmon exclusively. Today Carson releases over 2 million smolts annually and supplies eggs to other hatcheries.
The hatchery is open to the public 7:30 am to 4:00 pm daily. The best time to visit is May through August when large adult salmon are in the holding ponds. Call for information on group tours, lectures of fish culture, and dates of activities.
Conducted tours and lectures on fish culture may be arranged.