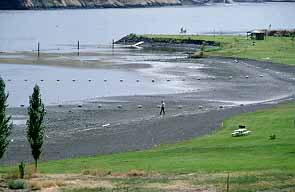 As the name suggests, this was once the site of a ferry service across the Snake River, but the ferry has long since been replaced by a bridge. The 185-acre park is located right on Lake Bryan behind Little Goose Dam, 35 miles southwest of Colfax.
The site is a very popular destination for campers and visitors who enjoy boating, fishing, and water-skiing. The park features evidence of basaltic lava flows, Pleistocene glaciation and prehistoric mammal habitation.
The Washington State Parks system includes more than 125 developed parks and includes about a quarter million acres. Reservations for this and other Washington State Parks can be made through Reservations Northwest.