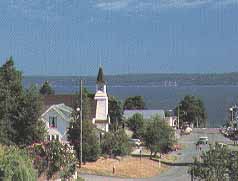 Langley, on
Whidbey Island
, is a tranquil spot with a casual small town atmosphere. Here you can take in breathtaking views of the Cascades, the waters of Sarasota Passage and neighboring islands. It's a place where active people will find country roads for riding bikes and miles of shoreline for kayaking. You can also be perfectly comfortable doing nothing.
A stretch of beach is easily accessible from Langley's Seawall Park. Take a beach walk and look for resident populations of bald eagles, herons, and sea lions.
Langley is most easily reached by the ferry from Mukilteo (on the mainland) to Clinton.
There is also a Langley, British Columbia.
Langley is part of the Seattle-Bellevue-Everett, WA metro area.