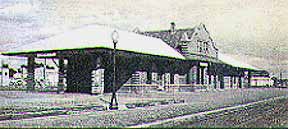 The railroad, operated by
Northern Pacific Railway Museum
Association volunteers, is a short line freight carrier providing service to the western end of the lower Yakima Valley through Harrah to White Swan. The line ends seven miles short of historic Fort Simcoe, which played a major role in the settlement of the Yakima Valley.
Freight operation expanded in March 2002, when the railroad was reorganized into a fully owned, for profit subsidiary of the Yakima Valley Rail & Steam Museum Association. The TSWR is currently operated trains serving Yakama Forest Products, Yakima County, and others.
Passenger excursions on this historic line, completed in 1916, provide passengers with a view of a variety of agricultural activities, native animal life, and a breathtaking view of Mount Adams. School charters are also available.
Experiences of all kinds await the enthusiasts of Trains.