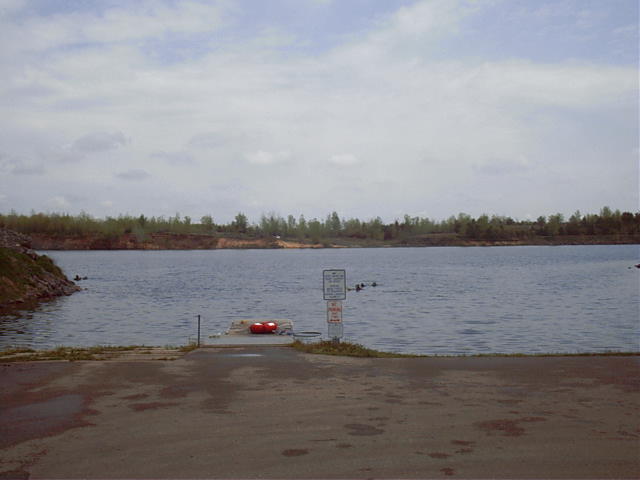 Wazee Lake is recognized as the deepest inland lake in the State of Wisconsin with a maximum depth of 355 feet. Visibility in the lake averages 30-40 feet during the summer months. Water temperatures run from approximately 70 degrees surface temperatures to 40 degrees below the thermocline. The thermocline averages about 30 feet. Divers who venture to greater depths will encounter a second thermocline at approximately 60 feet where the temperature drops to a chilly 34 degrees. Although all machinery was removed from the quarry upon its closure, remnants of the mining operation still remain visible underwater.

Many miles of hiking and gravel surfaced bicycle trails wind through a mosaic of prairie and forests. Several scenic overlooks are currently under construction as well as improved picnic and sanitary facilities. A large beach and boat launch complex is also available.

Location: Black River Falls Wisconsin 54615

(Galesville) Brush Ranch
(La Crosse) Island Girl Yacht Cruises
(La Crosse) Julia Belle Swain Steamboat
(La Crosse) La Crosse Queen Paddleboat Cruises
(Black River Falls) Lake Wazee
(Winona) Sugar Loaf


07/22 Coming to The Black River Falls area
Montello's Fish-n-Fun Montello WI May3-5 Fly over the city in a helicopter, paddle down the Fox River like Marquette and Joliet in a guided canoe, munch on cotton candy between thrilling carnival rides, send the kids fishing with the pros on Montello Lake.
Rhubarb Festival Lanesboro MN June1 Taste such delicious rhubarb delights as pies, crisps, cakes, soups, chutneys, chili, jams, ketchup, leathers, drinks and more. Be the judge of the best of everything rhubarb. After tasting your favorites, vote. Winners of Peoples Choice Awards win great prizes!
Rhubarb Days Osceola WI June7-8 Enjoy rhubarb at Mill Pond Park in Osceola.
Sparta Butterfest Sparta WI June6-9 Carnival, arts, craft, flea market, antiques, buttermaking demonstration.
Coon Creek Trout Fest Coon Valley WI June15 Bring you friends and family and celebrate the fish. Kids trout derby and classic car show.
Cranberry Blossom Festival Wisconsin Rapids WI June20-23 More than 20 events including live music, a parade, arts and crafts, cranberry blossom tours, and culinary treats featuring Wisconsin's tart and tangy fruit, the cranberry!

---
---