| | |
| --- | --- |
| | Illinois |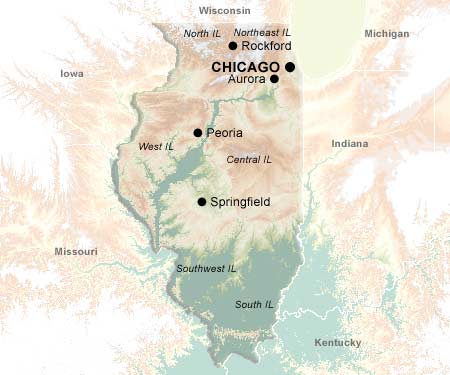 Also known as "The Land of Lincoln", Illinois is anchored by the nation's third largest city, Chicago, which lies along the shores of Lake Michigan and is affectionately known as "The Windy City".
The capital city of Springfield is found near the geographical center of the state and is home to the Abraham Lincoln Presidential Library, which contains the impressive collection of papers and memorabilia of America's most renowned president. After what became one of the most famous politcal debate series, the Lincoln-Stephen A. Douglas Debates of 1858, Douglas won the US Senate seat in question. Lincoln won the Presidency two years later, and then attained much of his fame as Commander in Chief during the Civil War, and as a leader in the abolition of slavery.
Among the state's other notable historical figures were Black Hawk, Carl Sandburg, Ernest Hemingway, John Deere, Ronald Reagan, Ulysses S. Grant, Wild Bill Hickok, Wyatt Earp and Al Capone, the notorious gangster of the 1930s Prohibition Era.
Home
/
Online Advertising
/
Contact Us
/
Privacy Policy & Legal Statement
/
Mortgage & Loan Info
© 1995-2008 Online Highways, LLC. All rights reserved.