| | |
| --- | --- |
| | Kentucky |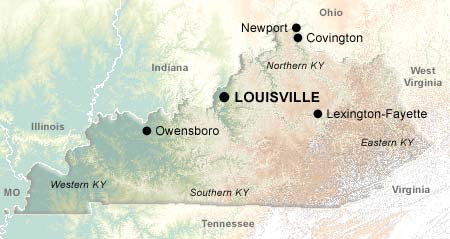 The "Bluegrass State" of Kentucky is named for a sod-forming pasture grass, also known as "June grass", which is prevalent in the north central region of the state. This area, known as the "Bluegrass Region", includes the cities of Louisville and Lexington, and is internationally renowned for its horse farms. Kentucky's signature event, the Kentucky Derby, which takes place annually on the first Saturday in May, is held at Louisville's historic Churchill Downs racetrack.
Kentucky is a center for many other things besides horse breeding: Bluegrass music for one, as Bill Monroe (the father of Bluegrass music) was a Kentucky native who named his group the "Bluegrass Boys" in honor of his home state. The city of Bardstown bills itself as the "Bourbon Capital of the World", and backs up its claim with the Oscar Getz Museum of Whiskey History and the annual Kentucky Bourbon Festival. Every Chevrolet Corvette since 1981 has rolled off the assembly line at Bowling Green, location of the National Corvette Museum.
In addition to all these cultural distinctions, Kentucky has more than its fair share of natural wonders. Mammoth Cave is the longest recorded cave system in the world with 336 miles of labyrinth explored and mapped. The Daniel Boone National Forest, named after one of the first explorers to make the difficult journey through the Appalachians and settle in Kentucky, holds many surprises, including 50 natural arches. The Big South Fork National River and Recreation Area offers 90 miles of spectacular gorge scenery, supporting canoeing, kayaking, whitewater rafting, camping, hiking, and horseback riding.
Home
/
Online Advertising
/
Contact Us
/
Privacy Policy & Legal Statement
© 1995-2008 Online Highways, LLC. All rights reserved.