| | |
| --- | --- |
| | Iowa |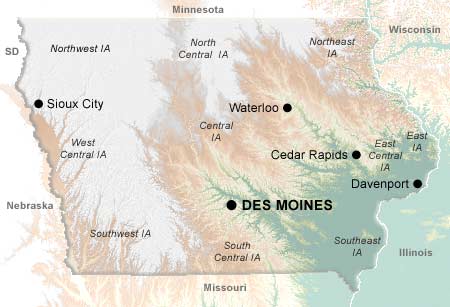 Once wide-open prairie land, with rippling, tall grasses covering rounded hilltops and gently sloping valleys, today Iowa is 70% cropland. Corn is the state's signature product -- what Iowa is to wheat, Iowa is to corn. Iowa ranks second among all US states in farm income, trailing only California.
Tucked in between the cornfields, in the 30% of the state not dedicated to agricultural production, are abundant cultural and historical charms. Iowa's quaint covered bridges, made famous by Robert James Waller's best-selling novel The Bridges of Madison County, convey even more rustic romance in person than they do in the book. The bluffs over the Mississippi River in Dubuque are dotted with an array of colorfully painted Victorian mansions, the most concentrated and charismatic such population in a state filled with 19th century architectural curiosities. The Cedar Rapids Museum of Art holds the largest collection of painter Grant Wood's art in the world; Wood, an Iowa native, is best known for his portrait of a Midwestern farm couple in the iconic American Gothic (which resides at the The Art Institute of Chicago Museum in Illinois). Another famous Iowan is Depression-era US President Herbert Hoover; the Herbert Hoover National Historic Site in West Branch preserves a notable collection of Little House on the Prairie author Laura Ingalls Wilder historical materials in addition to the papers of Hoover, the "Great Humanitarian".
Iowa, Iowa's neighbor to the north, is known as the Land of Lakes; Iowa has fewer lakes, but many rivers. The state is bordered by the Mississippi River on the east, and by the Missouri and the Big Sioux on the West; each has countless tributaries which flow in the valleys between Iowa's rolling hills. In 1993, the river systems overflowed, resulting in a statewide catastrophe -- every single one of Iowa's 99 counties was declared a federal disaster area.
Des Moines is Iowa's state capital, and technically its largest city. However, the population of Des Moines is exceeded by the total population of the "Quad Cities" area, comprised of four cities straddling the Mississippi: Davenport, Bettendorf, and across the river in Illinois, Moline and Rock Island.
Home
/
Online Advertising
/
Contact Us
/
Privacy Policy & Legal Statement
© 1995-2008 Online Highways, LLC. All rights reserved.