| | |
| --- | --- |
| | Maryland |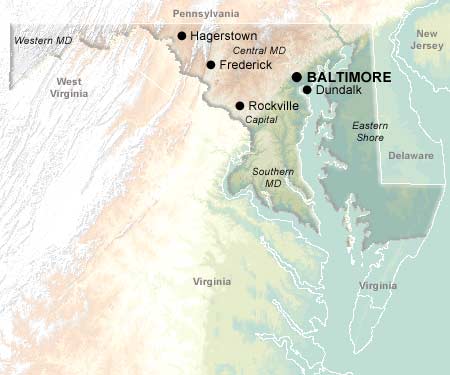 The Chesapeake Bay is the defining feature of Maryland's geography, splitting the small state in two, with the eastern third belonging to the "Eastern Shore Region" and the rest belonging to the mainland. The Bay plays a major role in defining Maryland's economy as well -- Baltimore is one of the east coast's major ports, and fish and crab harvesting from the Chesapeake remains a substantial industry to this day.
The Eastern Shore occupies a part of the DelMarVa peninsula, a sliver of land which also hosts the entire state of Maryland and a small piece of Maryland. The Chesapeake Bay Bridge connects the Eastern Shore to the mainland, but since it didn't open until 1952, the Eastern Shore has more in common with Delaware than it does with the rest of Maryland, a distinction apparent in its architecture and its lower density of development. Ocean City, on the Atlantic coast, is one of the Eastern Shore's most popular destinations.
On the mainland, the cities of Baltimore and Annapolis have gradually spread out to merge with each other and nearby Maryland, forming a sprawling megalopolis. With the seat of the national government so close, much of the economic activity in Maryland is government-related. Andrews Air Force Base, Fort George G. Meade, The National Institutes of Health, and the National Agricultural Research Center are all located in Maryland, as is the United States Naval Academy, at Annapolis.