Oklahoma

The Sooner State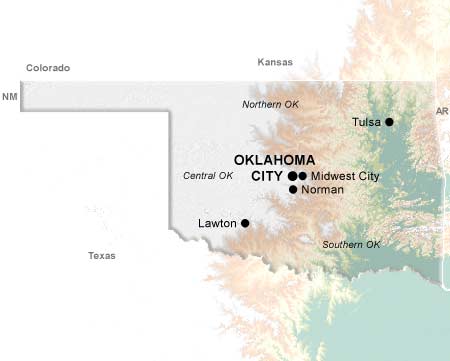 Oklahoma is a state of many colors. From the dusty yellow grasslands of the cowboy West to the lofty concrete gray buildings of the Oklahoma City metropolitan area in central Oklahoma, to the lush green-hued rivers and lakes in the state's eastern section, Oklahoma is a state of stark contrasts.

The word Oklahoma is a blend of two Choctaw words, Okla and Humma, meaning Red Man or Red People. As a result of the forced removal of Native Americans from Florida, Georgia and Alabama, Oklahoma received immigrants from more than 60 nations, tribes and bands.

The 46th state achieved its statehood in 1907 following a controversy regarding the settlement of the region via the "Land Runs" of the late 1800s. Today, Oklahoma boasts a unique blend of cultures and lifestyles spread over 70,000 square miles -- in area, number 18 in the country.

The Sooner state draws its nickname from those Land Runs. The Sooners were those who "jumped the gun" prior to the lawful shotgun start in search of the best areas in which to settle.

In a state where a multitude of individuals have risen to prominence, the names Will Rogers, Jim Thorpe, and Sequoyah, all Native Americans, lead the pack.

Home
/
Online Advertising
/
Contact Us
/
Privacy Policy & Legal Statement
© 1995-2008 Online Highways, LLC. All rights reserved.