| | |
| --- | --- |
| | Rhode Island |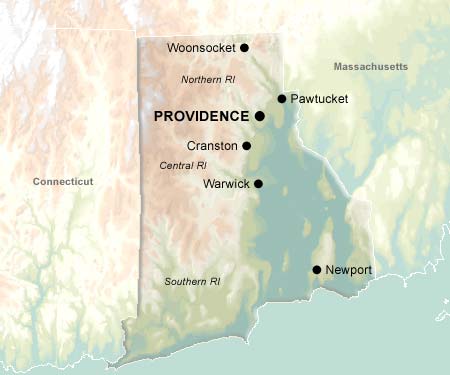 Rhode Island, 37 miles east-west by 48 miles north-south, is the smallest state in the US. Despite its meager surface area, the state has over 400 miles of coastline, most of it along the edges of Naragansett Bay, which pierces deep into the interior. Many of the state's most popular leisure activities are associated with the water: yachting, fishing, and swimming.
The capital and largest city of Rhode Island is Providence, at the head of the Bay. Providence's history as an seaport and as a center of jewelery and silverware manufacturing is documented in several execellent museums, including the Heritage Harbor Museum and the Rhode Island School of Design Art Museum.
Newport, the most important town in Rhode Island during its early history, was overtaken in economic and political clout by Providence a century ago, but continues to be a popular tourist destination. The America's Cup has been held there several times, most recently in 1993. Many luxurious summer homes were built in Newport during the 19th century "Gilded Age" by wealthy vacationers, such as the family of financier John Jacob Astor, whose Astors' Beechwood Mansion and Museum is among the most extravagant of these "cottages".
12 miles offshore lies teardrop-shaped Block Island, with its green rolling hills and high bluffs. Aggressive conservation efforts have helped to preserve Block Island's rural character, despite the enormous popularity of its long sandy beaches, hiking trails, and 365 freshwater ponds.
Home
/
Online Advertising
/
Contact Us
/
Privacy Policy & Legal Statement
© 1995-2008 Online Highways, LLC. All rights reserved.