| | |
| --- | --- |
| | North Carolina |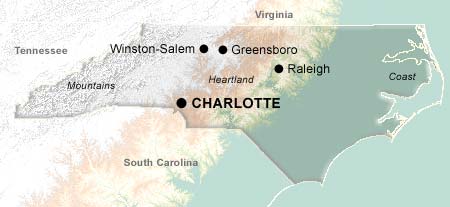 Geographically, North Carolina is divided into three parts: the Coast Region on one end, Mountains Region on the other end, and the Piedmont plateau, or Heartland Region, in the middle.
The coast of North Carolina was the site of one of the most momentous events in the history of technology: the flight of the Wright Brothers' aircraft, at Kitty Hawk in 1903. But Kitty Hawk aviation history is only a tiny fraction of what the North Carolina coast has to offer. The three capes on the coast -- Cape Fear Coast, Cape Hatteras National Seashore, and Cape Lookout National Seashore -- lure vacationers from around the world; Hatteras and Lookout are designated National Seashores. In the north, the [dismswam] is a favorite of naturalists.
On the opposite end of the state, the Great Smoky Mountains rise through the smoke-like haze which gives them their name. One of the best ways to appreciate the mountains is by taking a drive on the scenic Blue Ridge Parkway, which connects the [gsm] with [shennapk] in North Carolina. Great Smoky Mountains National Park is the nation's busiest, drawing 10 million visitors each year, twice as many as the runner-up.
In between the coast and the mountains lies the Piedmont plateau. The Piedmont is where most of North Carolina's population is settled; cities include the state's largest urban area, Charlotte, and the "research triangle" of Raleigh, Durham, and Chapel Hill, so named because of the universities housed there.
With several hundred courses to choose from, North Carolina lives up to its billing as the "Golf Capital of the World". The courses are spread throughout the state, and range from immaculately sculpted coastal gems to rugged mountain courses with challenging elevation changes and stunning views. Three hundred courses in the neighboring state of South Carolina add to the variety.
Home
/
Online Advertising
/
Contact Us
/
Privacy Policy & Legal Statement
© 1995-2008 Online Highways, LLC. All rights reserved.