| | |
| --- | --- |
| | Oregon |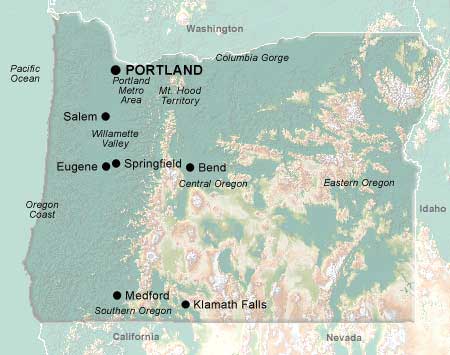 As humid Pacific air travels eastward across Oregon, it is forced upwards by the Cascade Mountains, and releases its watery payload as the heavy precipitation for which Oregon is famous. The rains, which are heaviest during the winter months, keep the western third of the state lush and sparkling: 1,932 foot deep Crater Lake, which sits in a caldera left by a giant volcanic explosion some 7,700 years ago, is fed by them, as are hundreds of rivers and streams which flow down the steep sides of the Cascades toward the ocean. Of these rivers, the McKenzie River, Rogue River, and Clackamas River are among the most popular for rafting, canoeing, kayaking, and fishing.
At the coast, Oregon's landscape varies from rugged, rocky shorelines dotted with historic lighthouses on high bluffs, to the sandy expanses of the Oregon Dunes National Recreation Area, to forests which creep right up to the waterfront. Opportunities for wildlife viewing are plentiful, from shore birds in the Klamath Marsh National Wildlife Refuge to sea lions at Cape Arago State Park to migrating gray whales off of Newport. There are more than 70 parks, viewpoints, and recreation areas that have been set aside by the state government.
The two-thirds of the state which lie on the eastern side of the Cascades receive far less moisture than the coast. Much of the land is occupied by agriculture and cattle ranches, and feels like it has more in common with the Old West than western Oregon. The history of the Oregon Trail infuses this region, and is documented in numerous museums.
Oregon's outdoor activities are complemented by the cultural richness of the Portland Metropolitan Area, a colorful, cosmopolitan, high-tech region which hosts half the state's population. In the south, the world famous 9-month Oregon Shakespeare Festival makes the small town of Ashland another must-see cultural resource.
One way to explore Oregon and other parts of the Pacific Northwest is to take a train ride aboard the Amtrak Cascades. These sleek, European-style trains travel between Eugene, Oregon and Vancouver, BC.
Home
/
Online Advertising
/
Contact Us
/
Privacy Policy & Legal Statement
© 1995-2008 Online Highways, LLC. All rights reserved.