| | |
| --- | --- |
| | Colorado |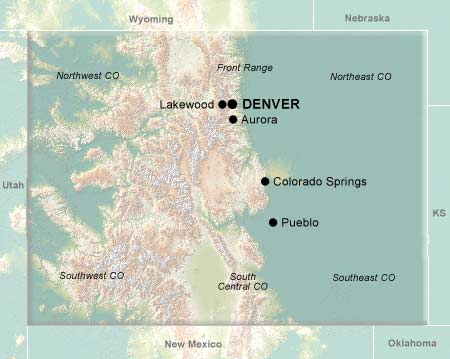 "O beautiful for spacious skies..."
Those words, from "America the Beautiful", were written in 1893 by Katherine Lee Bates as she returned from Pikes Peak, near the city of Colorado Springs. A century later, the charms of Colorado's "purple mountain majesties" continue to inspire and enrapture millions of visitors each year. Huge mountain resorts such as Aspen Mountain and Vail Ski Area offer first-class skiing and snowboarding during winter, then cater to mountain-bikers during summer. Exotic outdoor activities such as hangliding and hot-air ballooning are afforded a unique and beautiful setting. Rocky Mountain National Park features dozens of peaks over 13,000 feet in height, a bonanza for climbers and ambitious hikers.
Colorado is the second most populous of the Rocky Mountain states (behind Arizona), and it is growing quickly -- its cities are sparkling, modern boomtowns. Boulder is a cosmopolitan college burg, home to the University of Colorado at Boulder campus and more bicycles than people. Denver, the state's largest city and its capital, is a financial and banking center. Colorado Springs is a military town, with 30% of the population active or retired members of the US Armed Forces.
Home
/
Online Advertising
/
Contact Us
/
Privacy Policy & Legal Statement
© 1995-2008 Online Highways, LLC. All rights reserved.